Fast, pragmatic, goal-oriented

Logistics
At various locations, we offer our customers services in the field of intralogistics with the highest quality standards. In addition to operating logistics centers for our customers, we operate a warehouse for our raw, semi-finished and finished aluminum goods for our manufacturing and trading operations.
Contents of the page:
Services at a glance
From our materials management centers, we supply our customers in the aviation and energy industries with comprehensive services while maintaining the highest quality standards.
These include:
Goods receipt/quality control, procurement & disposition
Inventory Management
Customs clearance
Kit formation and picking
Production supply Just in time / Just in sequence
Internal transport
Shipping
Heavy lift logistics
Our locations
Material Center for Aluminum, Nordenham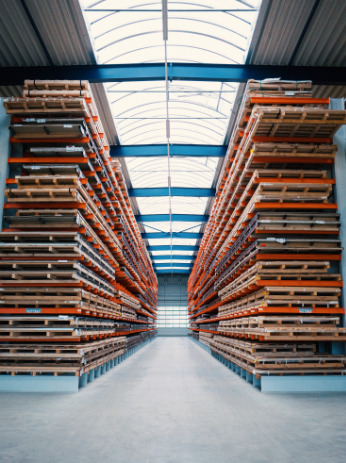 In Nordenham we currently procure and store around 5,000 tons of aluminum per year. We operate a material center for sheet and profile materials on approx. 6000 sqm and supply our internal and external customers.
Here we take over for our customers and our own production:
Disposition
Purchasing
Customs clearance
Storage
Picking
Delivery
In addition to about 600 sheet variants (1200mmx2500mm to 2500mmx13200mm), we handle about 100 different profile variants up to 10 meters.
Materials Management Centers Aviation
At the Nordenham, Bremen, Stade, Varel and Augsburg locations, we operate the materials management centers for the production supply of our aviation customers on more than 50,000 square meters of warehouse space with our subsidiaries LTS Nordwest and Honold LTS, respectively.
With transparent processes, we achieve a high level of work and process reliability with which the quality requirements of the aviation industry can be met. By standardizing data and logistics systems, we avoid search times, for example, and achieve high productivity of our resources.
Impressions of our locations:
Our logistic solutions
Goods receipt
Customs clearance
Operation of automatic and manual warehouses for small and large components
Picking, kit forming and packing
In-plant transport with automatic transport control systems
Production supply to point of use
Just-in-time delivery
E-KANBAN Supply
Track & Trace, e.g. of load carriers, components and production orders
Shipping
Etzel service center
In Etzel we operate our own service center, where all materials from small parts to large components (> 10to) are stored and handled for the supply of various cavern sites.
The warehouse is managed and controlled with our Move software. In addition to the direct interface into the customer's SAP, the webshop application was implemented for the customer, enabling the fitters to order and receive their spare parts directly from the construction site using keyword search functions, clusters and images.
Digitization in logistics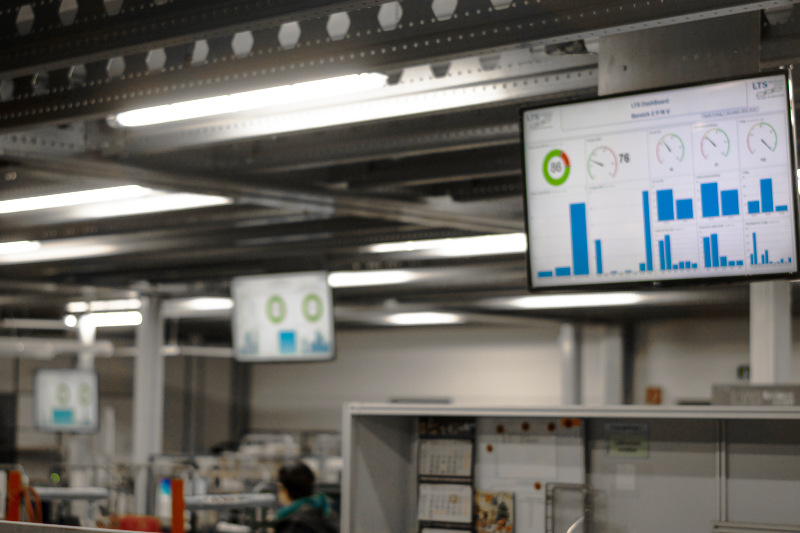 In addition to highly developed IT systems such as our warehouse management software and vehicle control systems, we also use software solutions developed in-house to ensure the highest quality at all times. In addition, we have been mapping service processes in a service control system since 2018.
All processes are interconnected via the "MOVE" software developed within the group of companies in order to bundle all data, prepare it, display it with maximum transparency and thus be able to proactively influence the individual processes. This enables us to track the individual work steps in all processes – from goods receipt, warehousing, picking, internal shipping to booking at the receiving shelf – in real time at any time and to reflect them to our customer in his systems by means of status messages.
These solutions form the basis for our digitization philosophy, our guiding principle "…leanlogistics for our customer" and our understanding of the highest quality.
Certifications
We are certified by DNV. Our certificates include:
ISO 9001:2015
EN 9120:2018 based on ISO 9001:2015
Do you have any questions?
Then please feel free to contact us! You can reach us at the e-mail address info@a-t-group.com, as well as at the telephone number: +49 4731-39094-0.
Or learn even more about us on the
A&T company page
.