Become part of our A&T family!
Career
Contents of the page:
Working at A&T

We are a system supplier for technical and logistical projects in the aerospace, wind energy and cavern construction sectors.
We offer our customers complete solutions – from material procurement to warehousing, logistics, production and delivery. Our flexible IT solutions integrate production and logistics control and ensure efficient processes with the best possible adherence to schedules.
Working at A&T means:
Participation in the design of new processes and projects
Continuing education as well as active and constant learning in all areas of the company
Flexibility and teamwork
Flat hierarchies and family atmosphere
Short and fast decision-making processes are just as important to us as an open and honest communication policy in our independent family-run company. We are supported in these versatile tasks by our reliable employees, many of whom have been with us from the very beginning.
If you would like to become part of our team, you can find our current job offers here. You are also welcome to send us an informative speculative application to bewerbung@a-t-group.de.
A&T – That's US
At the A&T Group, the focus is always on people. Cohesion, flat hierarchies and a family-like approach are particularly important to us. A&T – that's all of us. That's why we asked our team how they themselves would describe A&T. The result is a list of over 20 things: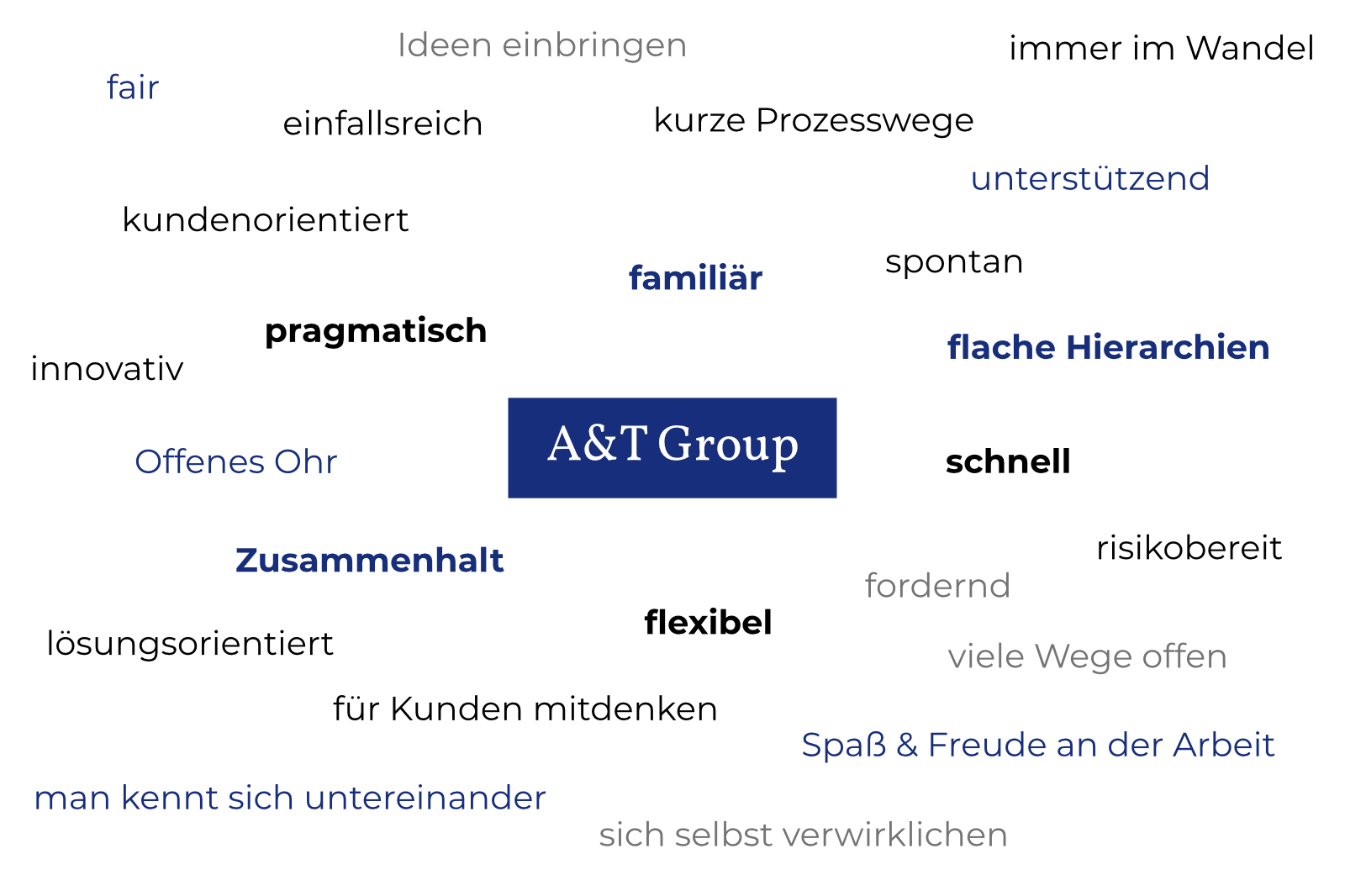 Current vacancies
Currently there are the following vacancies:
Are you interested in an apprenticeship in an innovative, motivated company with interesting prospects? Then send us your informative documents to bewerbung@a-t-group.de. Or get to know us in advance in a (student) internship.
Internships
Internships are also available in all of the above areas.
Become part of the team!
You still have questions or want to become part of the team directly? Then feel free to contact us! You can reach us at the e-mail address info@a-t-group.com, as well as at the telephone number: +49 4731-39094-0.
You can send your application directly to bewerbung@a-t-group.de.
Want to learn more about A&T beforehand? Then feel free to browse further on our site. We have collected a lot of information for example on our page Company collected.